Urban Goose Chase comes to Philadelphia on October 6!
Get out of your comfort zone, spice things up for a day and do something daringly adventurous with your friends. Urban Goose Chase is an outrageous modern take on an old-school scavenger hunt, with a little Fear Factor mixed in! When Urban Goose Chase comes to Philadelphia, have a blast completing daring missions, outrageous challenges, discovering your wild and creative side, exploring your city, competing against other teams, and meeting great new people.
Mark October 6 on your calendar. Get a little wild and crazy with Urban Goose Chase that afternoon. It will be the highlight of your year!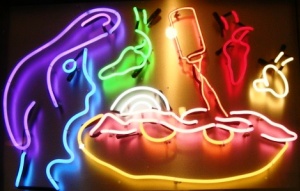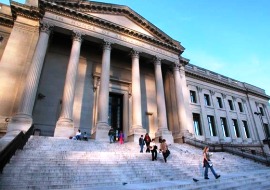 Fast Facts
What? Urban Goose Chase Philadelphia. Join hundreds of teams and get out of your comfort zone for an afternoon of "Fear Factor" mixed into a smartphone-powered scavenger hunt!
When? October 6, 2012 from 1:00-4:00 pm
Where? Throughout Downtown Philadelphia, super secret start location TBA!
Why? Have a great time with friends and make memories you'll be laughing about for many years to come.
How Much? Regular price for teams of 2 is $50, or only $20 with Groupon voucher! Teams of 4 people are $100, or only $36 with a special Groupon voucher! A team of 6 is regularly priced at $150, but you can save over $100 by paying just $48 with Groupon! Wow!
Collect mission points through the state-of-the-art App
On event day, we'll feed entertaining Philadelphia missions right to your iPhone or Android smartphone using a state-of-the-art App. You and your team can do a quick scan through them all and decide which ones to take on and when. Rush through some of the seemingly easy ones to get warmed up, or head straight to the crazier ones to earn big points. You'll be stretching your boundaries and laughing hysterically in no time!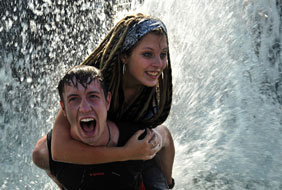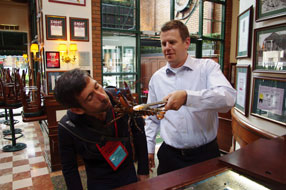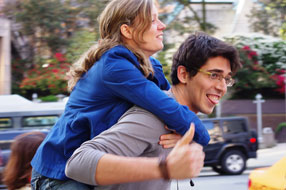 Some teaser missions to give you an idea of what to expect
From handstands in elevators to kissing live lobsters, everyone will be laughing hysterically all over the city!
COFFEE BAR STAR | 250 POINTS: Create a great Benihana-calibre teppanyaki routine at the condiment stand of your local coffee shop. The photograph must be an action shot!
Imagine standing in line for your daily cup of coffee when all of a sudden a group of people storms into the shop, heads directly to the cream and sugar station and then proceeds to throw packages of Splenda in the air while group members try to catch them with wooden stir sticks! Someone takes a picture and then just as quickly as they appeared, they're gone! You know bystanders will have an interesting story to tell around the watercooler on Monday!
CROSS DRESSERS | 1000 POINTS: Find a pair with a passion for fashion and swap their outfits with 2 members of your team. Before and after photo proof is required.
We never thought teams would even try this. "Where are they going to find 2 (sane) people who want to give up their clothes?" We're always surprised how many times we're wrong! There is no shortage of people willing to trade clothes with total strangers under the guise of "Help-us-win-this-game!". It's the odd couples that make this Mission so much fun, like the construction workers who swapped outfits with the Japanese exchange students, or the lawyers and the mannequins in the store window!
GREEN WEAVER | 500 POINTS: Create and then photograph the most useful thing you can knit, weave or otherwise fashion out of plastic grocery bags.
This is a fun Mission if teams start it early enough in the game to have time to think about the item they're going to create. Team members can really show off their creative and eco-friendly sides with this Mission and the other team members are always surprised when they discover that one of their own can make a doormat from a handful of plastic bags!
HAIRY SCARY! | 1000 POINTS: Make a Nagi Nodo critter from human hair. A bald man with a live mammal on his head will also be considered!
This is a great Mission but one that is not often completed by teams. First, find out who Nagi Nodo is (short version: she's a Japanese artist who created AMAZING sculptures out of hair. While it's still on their head! http://www.naginoda.com/works/hairhats.html). Then, teams have to plan their sculpture and beg, borrow or steal the materials to make it happen. We personally think finding a man with a mammal on his head would be easier, but a handful of teams have given it a good try. The animal of choice seems to be a big, fluffy, abstract sheep!
FRENEMIES | 250 POINTS+: Photograph the team re-enacting the splashing-in-a-fountain scene from Friends. Water must be involved and more water means more points!
This Mission is a great way to cool off in the summer, and we've learned that there are very loose definitions of fountains. Pouring a bottle of water on your team mate is a type of fountain, we suppose.
Theme Your Team!
Dress up your team in outrageous orange outfits to earn bonus mission points right from the start. Bystanders in Philadelphia will have no idea what's going on, but you will!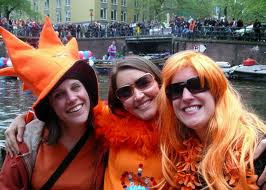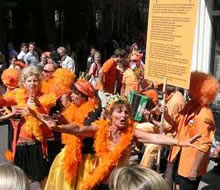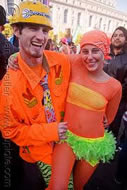 Climb to the top of the UGC leaderboard and win!
Are you willing to do anything to win? Anything? Use your smartphone to track how your team compares to all the other teams playing in Philadelphia, in real time. See what missions they're completing to earn the points you need, right now.
End up at the top of the leaderboard on event day (after we've checked to ensure you didn't cheat) and your team will win a $250 Visa gift card, not to mention massive bragging rights. If you don't win the big money, that's OK. Just make friends with the winning team and help them celebrate!